The disease

Frontal Fibrosing Alopecia is a rare dermatological disease, that manifests with hair loss in the frontal, parietal and temporal regions, whose prevalence is rising sharply in the world. Skin in the affected area may appear normal or have a pale, shiny or slightly scarring appearance. On the border of the hairless area it's possible to notice erythema and light perifollicular hyperkeratosis. Among the possible causes are some particular chemical substances contained in creams and cosmetics used mainly by women or the involvement of a hormonal component.

Treatment

The disease has a slow progression and there is currently no cure: the main goal of the treatments is to reduce inflammation and prevent the progression of the disease. Oral steroids, antibiotics, antimalarias may be beneficial at the onset of symptoms. In some cases, finasteride and dutasteride or antidiabetic drugs such as pioglitazone or topical drugs such as tacrolimus and minoxidil are employed.

Some pictures of FFA: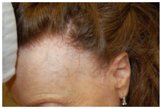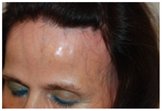 Italian Registry Frontal Fibrosing Alopecia

This is a descriptive study of FFA clinico-epidemiological and therapeutic characteristics that will be conducted through an electronic form collecting the following pieces of information:


personal and demographic data;
menopause;
the duration of alopecia;
use of cosmetic creams or sunscreen;
clinical manifestations:

severity measured as extension of the hair loss area (5 severity grades, from I, mild, to V, most severe);
presence of papules on the face;
association with androgenetic alopecia and other scalp diseases;
degree of AGA and familiarity;
presence of subjective symptoms (itching, trichodynia);
eyebrow involvement and other areas of the body;
trichoscopy and its outcomes;
presence of hypothyroidism;
presence of lichen planus lesions;
specific laboratory tests;
previous therapies and response to treatment.
The main objective of FARE register is to define the clinico-epidemiological profile of the disease in Italy, and to relate severity to variables such as duration, other clinical signs and diseases.
The treatment will be recorded in order to evaluate effectiveness and tolerability and to provide possible therapeutic guidelines.